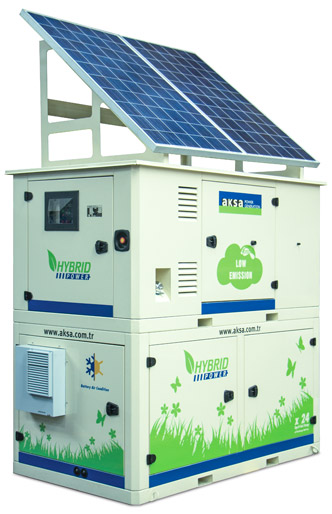 Aksa Power Generation included the hybrid generator considered as the future technology that it has produced exclusively with its own R&D activities into its product portfolio.
Aiming to propose economic and environmental friendly solutions to its customers, Aksa Power Generation will provide up to 70% with the hybrid generator powered by wind and sun.

Understanding the industry needs and proposing creative solutions based on these needs, Aksa Power Generation keeps on expanding its network with 'Silent Hybrid Generators' developed for special events. Presenting the hybrid generator technology that consumes less fuel with low-noise and low exhaust emission as a result of the successful researches and the models use renewable energy sources, sustainability has now become a priority topic followed by international industry. As a company producing in compliance with the world and environment, hybrid project created through integration of renewable energy sources. Aksa will keep on providing economic, innovative and environment friendly solutions to our customers with our R&D investments. Aksa hybrid generator system is designed to decrease fuel consumption and maintenance expenses. With the hybrid generator Aksa provide and increase fuel savings up to 70% with integrated battery bench compared to conventional AC installation.